Thermocouple & heater reverse
In our hot runner controller repair, sometimes we got feedback that some users connected the thermocouple and heater reversely, resulting in thermocouple broken. Although the thermocouple is one of the hot runner accessories, but also important. A thermocouple is a device, that used to report the actual temperature of the hot runner to the temperature controller, so that it can determine how much power to send to the corresponding heater to achieve the temperature set-point.
Heater and thermocouple reversed mainly occurred in the injection molding, which is combination wiring. This situation is more obvious regionally, and there are relatively more in Asia. Because in North America and South American, most hot runner controller wiring diagrams are DME style.
Separated thermocouple cable and mold power cable in DME hot runner controllers. Power cable comes with 25 pin 10amps connectors on both ends, grey color. Thermocouple cable includes one 25 pins 10amp connector, the other end always 10pin/16pin/24 pin 16amps connector, black color.
DME Hot Runner Controller Wiring
DME style mold power cable
DME style thermocouple cable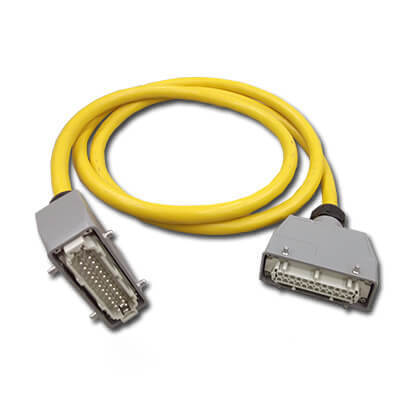 While YUDO hot runner controllers widely used in Asia, which is combination cable.
After a long time of use, the wiring label gets blurred or falls off, and it is difficult for users to distinguish. Especially after replacing the mold that wiring may be completely different from the temperature controller, which easily leads to thermocouple & heater reversed.
A pair of molds corresponds to a hot runner controller

Before connecting the mold, make sure that the hot runner controller wiring is consistent with the mold

A hot runner temperature controller with thermocouple & heater reverse protection is required
Comparing with the technology a few years ago, most suppliers have the function of misconnection protection. However, some are only alarms and do not cut off the output at the same time. Thermocouple easily is damaged if maintenance does not notice it in time.
New launched hot runner controller card (model: HC15-S) from Suzhou Hancowi Tech Co., Ltd (Hitcontrols™), it can cut off the output at the same time when misconnection detected, see the troubleshooting and remedy below. This could prevent thermocouples from damaged.
In addition, Hitcontrols control card could shift to Manual mode automatically, when detecting the thermocouple fails in the production. Thereby ensuring that production is not affected, and greatly reducing the downtime of the injection molding machine.
For any further questions, please do not hesitate to contact our team ( [email protected]).
Wanna know more about us? Click "About Us"