Multi-cavity Hot Runner Temperature Controller System?
The TSC Multi-cavity Hot Runner Temperature Controllers are produced by
Hitcontrol.
Available from 12-120 zone. Integrated temperature controller and sequence injection timer controller. The temperature control module comes standard with 2 zones at 15 Amp per zone. And sequence valve gate control module can control 6 valve gates for each module.
Smart touch screen interface

Tiltable 10.4″ full color LCD HMI

Unified mainframe for different zones

Reduce your cost with unique 2-zone control modules

Suitable for all hot runner systems
Standard Features
Power supply, 3-phase, 200-240Vac or 3-phase, 380-415Vac
English/Spanish/Chinese language
Selectable thermocouple types (J/K)
Selectable temperature units (°C/°F)
Group setup function
Editable zone name
Internal alarm buzzer
USB, Ethernet connection, software updates
CE approved
Advanced Functions
Customized start-up interface information
Adjustable HMI fixed on mainframe or stand-alone
Stopping the injection molding system remotely (optional)
Standby system remotely (optional)
All zones' temperature in tolerance output (optional)
Start sequence in group
Sensor fault solution
Alarms & Protection
Output percentage limit
Sensor broken /reversed /shorted /disconnected
Load broken /shorted /over-rated
Temperature over high /under low
Fuse blown
Heating invalid
Triac breakdown
Power supply over-voltage
Cabinet temperature over-setting
Alarm output (optional)
Combined Thermocouple-Mold Power Connection-1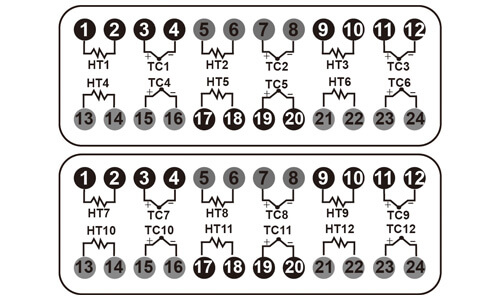 Combined Thermocouple-Mold Power Connection-2
Separated Thermocouple Connection
Separated Mold Power Connection
Combination Mold Power Thermocouple Cables
Mold Power Cables
Mold Thermocouple Cable
No matter standard or custom cables with different lengths, wiring diagram, you can find all here. We are your solution provider.
Hot Runner Temperature Controller Trouble Shooting
1. Check the mainframe circuit breaker is working
2. Check module fuses and replace them if blown
1. Controller may not be plugged in.
2. Fuses or air circuit breaker may be blown
3. Input power incorrectly wired or damaged
1. Triac shorted or driver
2. Change parameter "t"=0 (factory setting is t=1)
3. Try this module in another good heater zone
1. Heater may be too small
2. Wrong thermocouple zone
3. Heater may open
4. Check cable connection
5. Input voltage to module is low
6. Triac open
7. Try this module in another good heater zone
1. Heater may be too small
2. Wrong thermocouple zone
3. Heater may open
4. Check cable connection
5. Input voltage to module is low
6. Triac open
7. Try this module in another good heater zone