Hot Runner Controller Wiring
Have you got the question about the mold wiring, while buying the hot runner controllers?
As you know, hot runner temperature controllers are control systems that continuously monitor the temperature of the assembly components. The systems can be controlled entirely centrally by a mainframe or used localized control modules to provide real-time, dedicated management of the hot runner assemblies. Internal thermocouple, heater wires should be exactly the same to the mold. And corresponds to the nozzles on the mold one by one. Otherwise, it may cause customers' loss and production stopped by thermocouple, heater inversed.
Hope this post could help you understand the different kinds of wiring configurations.
Below are some wiring diagrams for hot runner controllers 15Amps, which widely used in injection molding equipment. (Other special wiring requests, should confirm with the suppliers before ordering)
Compact single and two-zone hot runner controller wiring
The portable 10 Amp controller is supplied with power-thermocouple cable. Generally male at the mainframe end of the cable and female for mold side.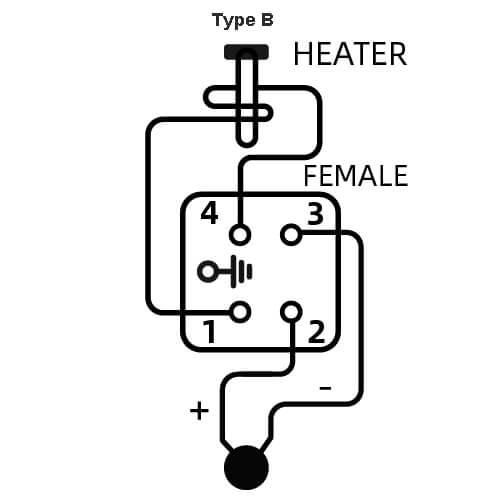 DME Hot runner controller wiring diagram (5/8/12 zone)
Unless otherwise specified, all 5/8/12 zone mainframes in North American market are supplied to 240VAC, 3 phase, 4-wire, 50-60Hz input power.
Hot Runner Controller Input Power 240VAC 3-phase
Below are some thermocouple cables and mold power cables you may need. However, the connectors type for mold end of the thermocouple cable is based on controller zones. In general, 5 zones is 10 pole insert, female. 8 zones is 16 pole insert, female. 12 zones is 24 pole insert, female.
standard mainframe connector wiring
DME mainframe
Hot Runner Thermocouple Cable
Hot Runner Mold Power Cable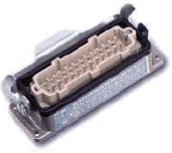 Hot Runner Thermocouple Cable
Mold connectors wiring diagram
Thermocouple, Mold Power Cable with 16&24 Pin Connectors
Thermocouple Cable Diagram in 16&24 Pin
Mold Power Cable Diagram in 16&24 Pin
Combination Thermocouple-Mold Power Cable
Combination cable connections are more common in Europe and Asia. For instance,  most YUDO controllers comes with combined cables. And 16 pin, 24 pin connectors are used most.
Wiring Mode 1
Wiring Mode 2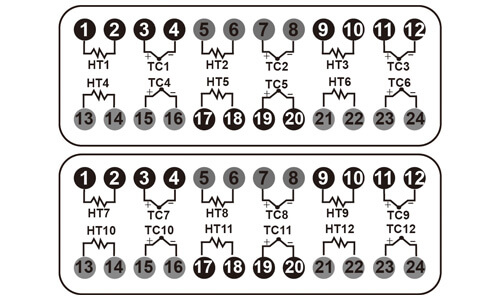 Other Custom Wiring Diagrams
Further cables options and prices please contact us now!
Our skilled engineer is ready to help you choosing right ones.
Contact Us