7 Points About Hot Runner Control Modules You Can Not Ignore
This article is to introduce the production process of hot runner temperature control cards (from raw materials to packaged finished), so that customers have a better understanding of the production process of temperature controllers before communicating with suppliers. During my communication with many customers, who are unable to visit the factory before start cooperating with Chinese hot runner controller suppliers, because of Covid-19 and cost issues. Although you can further understand through the video sent from the factory. However, not all Chinese suppliers could provide detailed production videos and detailed explanations.
Temperature control card is a standard product, is difficult to identify good or bad from the appearance. This also leads to compition on hot runner controller price firece. Below is a hot runner control card wholesale price, is really very attractive. But would you buy directly from this company?
Of course not, but you will definitely have to learn more about the supplier and the product, because "the cheapest is the most expensive". You can also refer to "Is this hot runner controller manufacturer trusted?" to help you filter hot runner suppliers from other aspects.
The next 7 points will help you understand how a hot runner controller card is produced. What steps are involved to make a qualified hot runner controller card.
1. Raw Material Preparation
2. Programming
3. PCB calibration, testing–First Inspection
4. Front Panel Assembly
5. Complete Card Assembly
6. Product Aging & Testing–Second Time Inspection
7. Final Inspection
1. Raw Material Preparation
-Simi-finished PCB Board: hot runner controller CPU, all functions are generated here. Equivalent to a computer mainframe
-Display Board: connected to the main PCB, to display the data received and processed by the temperature control card. Just like a computer monitor
-Aluminum panel: used to stick film and protect PCB
-Aluminum heat sink plate: used for triac heat sink
-Power Switch: ON/OFF control
-Front Label: operating interface
-Handle: for control card installation
The semi-finished PCB board just has the initial wiring and electronic components. All Hitcontrols' control cards will be functionated via programming into the PCB. Below is the programmer we use. We have multiple devices, each of them contains a different program for different temperature control cards.
3. PCB calibration, testing–First Inspection
This is a very important step before assembly. Through the previous step, PCB already has get functionated. However, whether the program is complete with 0 error, it needs to be tested on a special inspection device, and some core parameters calibration.
This step is done by our experienced inspectors, who generally require more than 1.5-2 years of hot runner controller production experience.
4-1. Film–According to the order, we apply different private labels.
4-2. Display Board Assembly
4-3. Handle Assembly
4-4. Install Power Switch
5. Complete Card Assembly
5-1. Add thermal conductive silicone grease
Thermal silicone grease is applied between the triac and mounting holes of the heat sink board, which has a faster thermal conductivity, so that the heat generated by the triac can be dissipated faster.
5-2. Main Board Assembly
Connecting display board to PCB
5-3. Aluminum heat sink plate assembly
5-4. Insulation film
Mainly prevent users from plugging the hot runner temperature control card with electricity caused by the risk of electric shock. Also, prevent plugging and unplugging the temperature control card when touching the next temperature control card circuit board.
5-5. Product labeling
The label includes product serial number, model number, power supply, temperature, load, etc.
6. Product Aging & Testing–Product Aging & Testing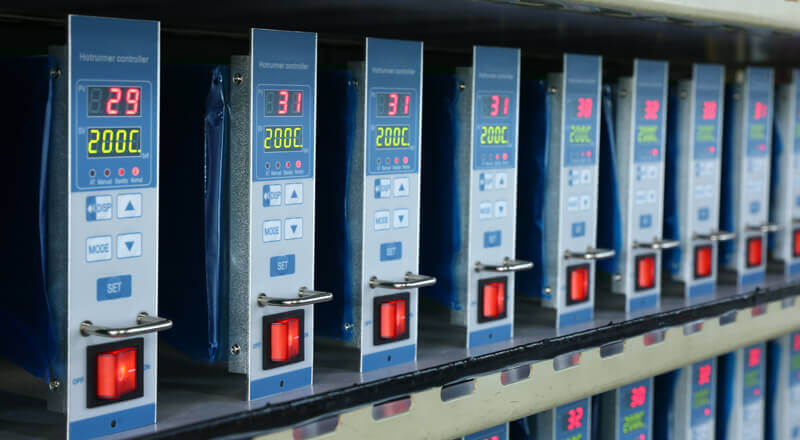 Put the control modules on aging rack at least 12 hours of continuous power to ensure the stabilit. During this period, if there is any abnormality of the temperature control card, will send them back to the calibration and testing area to check in detail again, and then continue to power on the aging.
7. Final Inspection
After aging is completed, the qualified temperature control cards will be put on another aging rack for full function testing. This aging rack, also connected to sensors, coil heaters, and completely simulates a hot runner system to check each part.
After completing 3 inspections, the temperature control cards are ready to be packed, send to warehoused, and await sending to our customers.